LES PORTES DU PLENEY
Exclusive development of 12 apartments.
PRIME location in the centre of town.
1 minute from the Pleney Telecabine.
4 minute walk to the Super Morzine Telecabine.
It will be built to the highest specification.
Each apartment is spacious with open plan living areas.
Completion, June 2018.
Secure garages for all apartments.
The Portes du Pleney development is a luxury development of 12 apartments.
Brochure can be found on the following link
http://www.morzine-immo.com/wp-content/uploads/2016/09/Portes-du-Pleney.pdf
The land is located on "Avenue de Joux Plane" in the central heart of Morzine right next to the Pleney Telecabine.  It offers a very central location where everything is on your doorstep.  The residence will be the envy of many…..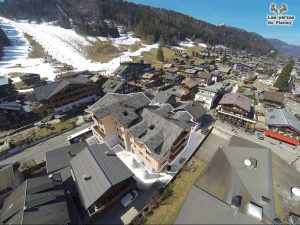 The exterior design will be a classic design using both wood and stone.  Large glazed opening maximise the light received by each apartment.
The entry hall hallway will be modern but simple.  All apartments will be equipped with video phone entry for security and ease.
There will a secure underground car park which services the apartments.  The parking will be accessed by a state of the art car lift operated by a remote within your car.  The system is both fast and efficient to avoid any waiting.  All apartments will have a car parking space and a ski locker.
There is a passenger lift that connects the basement area to your desired floor within the residence.
The Residence will be built to the new building standards in France which are governed by the RT 2012 regulations.  This is a very high standard and guarantees any purchaser will benefit from the highest of insulation and heating standards.  The heating will be a wet underfloor system throughout each apartment.  It will be completed in different zones so you have the ability to control the temperature to your liking in each part of your apartment.
The interiors of the apartments will be a luxury finish.  Within the contract of purchase there are a very generous allowances for you to choose the exact finishes that you require.  The main items on this are floor finishes from natural oak to tile, bathroom fittings and design, kitchen design and wall finishes throughout.  We will insure that your vision becomes reality for your dream mountain home.  We are always on hand to advise and show you existing properties to help with your decision making process.
At present we have the ability to change certain apsects of each apartment if you would prefer a different layout.  You could also combine apartments at present if you wanted to more space.  Please contact us to discuss these.
The work will be completed by an expert team of craftsmen.  Previous work can be viewed by any potential purchaser and we think you will agree all has been completed to the highest of standards.
The photos used in the following sections of this brochure are for illustrative purposes.